Cloudy with a Change of Meatballs 2 nu verkrijgbaar op DVD, Blu-ray Disc en VOD
Sony Pictures presenteert:
CLOUDY WITH A CHANCE OF MEATBALLS 2
Verkrijgbaar vanaf 14 mei op DVD, Blu-ray Disc (Combopack en 3D) & VOD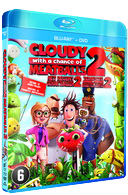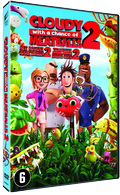 Synopsis:
Uitvinder Flint Lockwood dacht dat hij de wereld had gered toen hij zijn beruchte uitvinding vernietigde, een machine die water in voedsel veranderde waardoor het cheeseburgers regende en spaghetti stormde. Maar dan ontdekt Flint dat zijn machine nog steeds bestaat en nu blijkbaar voedsel en dieren combineert in 'voedseldieren'. Flint en zijn vrienden moeten nu - nogmaals - de wereld gaan redden. Een avontuur om van te watertanden, waarin we kennismaken met tacodillen, vispansees, flamango's, gehaktbalrussen en nog veel meer vreemde voedseldieren.
DVD FILM + EXTRA'S
• Audiocommentaar van de maker
• Anatomie van een voedseldier
• Productie-ontwerp: Terug in de keuken
• Te gekke aftiteling
• Cloudy Café: Wie staat er op het menu?
• Het maken van de voedseldieren
• De mysterieuze Sasquash
• Heerlijk productie-ontwerp
• Cody Simpson "La Da Dee" videoclip en making-of
BLU-RAY EXTRA'S: NOG MEER SMAKELIJKE PRET!
• 4 Ongebruikte Scènes
• Foodimal-Funimal App: Synchroniseer met je Blu-ray voor nog meer voedseldierenplezier

4 GRAPPIGE MINI-FILMS
• Attack of the 50-Foot Gummi Bear
• Steve's First Bath
• Super Manny
• Earl Scouts
Technische specificaties DVD:
Speelduur: 91 minuten
Taal: Engels Dolby Digital 5.1, Frans 5.1, Vlaams 5.1, Nederlands 5.1
Ondertiteling: Engels, Frans, Nederlands, Arabisch
Aspect ratio: 2.40:1
Technische specificaties BD:
Speelduur: 94 minuten
Taal: Engels DTS-HD MA 5.1, Frans 5.1, Vlaams 5.1, Nederlands 5.1
Ondertiteling: Engels, Frans, Nederlands, Arabisch
Aspect ratio: 2.40:1 1080p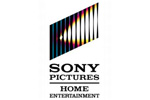 Recente artikelen
Filteren
Tags
Meer >
Archief
2019

2018

2017

2016

2015

2014

2013

2012

2011

2010

2009

2008

2007

2006

2005

2004

2003

2002

2001
Meer >
Deel deze pagina