De actiekomedie THE HAPPYTIME MURDERS en de actiethriller PEPPERMINT zijn vanaf 22 januari te koop op DVD en BD
Twee nieuwe releases van The Searchers op DVD en Blu-ray Disc op 22 januari.
Op 22 januari brengt The Searchers de films THE HAPPYTIME MURDERS en PEPPERMINT uit op DVD en Blu-ray Disc. Vanaf dan lig je dubbel van het lachen met Melissa McCarthy in de hilarische komedie The Happytime Murders, waarin muppetachtige poppen samenleven met mensen en zit je op het puntje van je stoel met de indrukwekkende actiethriller Peppermint, waarin Jennifer Garner op zoek is naar wraak voor de moord op haar man en kind.
THE HAPPYTIME MURDERS
In de knettergekke komedie The Happytime Murders leven de Henson puppets een leven vol seks, drugs en geweld. Geregisseerd door niemand minder dan Brian Henson (The Muppet Christmas Carol) en met Melissa McCarthy (Life of the Party, Ghostbusters, Bridesmaids), Bill Barretta (The Muppets, The Muppets Most Wanted) en Elizabeth Banks (The Hunger Games, Zack and Miri make a porno) in de hoofdrol.
Synopsis: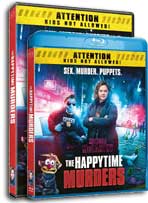 In de onderwereld van Los Angeles leven puppets als tweederangsburgers samen met mensen. Wanneer een seriemoordenaar het gemunt heeft op de bekende puppets uit de kinderserie The Happytime Gang moet Detective Edwards (Melissa McCarthy) noodgedwongen samenwerken met haar ex-partner Phil Philips. Maar als blijkt dat Phil's ex-vriendin Jenny (Elizabeth Banks) het volgende slachtoffer is, leiden alle sporen maar naar één dader: hijzelf.
Regie: Brian Henson
Cast: Melissa McCarthy, Elizabeth Banks, Joel McHale, Maya Rudolph, Bill Barretta

Lengte: 88 minuten (DVD) / 91 minuten (BD)
Beeld: 2.35:1
Audio: Dolby Digital 5.1 Engels, Frans
Ondertiteling: Nederlands, Frans
Kijkwijzer: 16
Consumentenadviesprijs DVD: € 16,99 / Blu-ray: € 17,99
PEPPERMINT
Van de regisseur van o.a Taken en Banlieu 13.
Synopsis: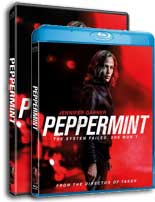 Wanneer Riley (Jennifer Garner) wakker wordt uit een diepe coma herinnert ze zich alleen nog hoe haar dochtertje en man voor haar ogen op brute wijze werden vermoord. Als het gerechtelijke systeem de moordenaars ook nog eens vrijuit laat gaan besluit Riley dat ze het heft in eigen handen moet nemen. Ze begint aan een tocht door de onderwereld van Los Angeles met slechts 1 doel: wraak!
Regie: Pierre Morrel
Cast: Jennifer Garner, John Gallagher Jr, John Ortiz

Lengte: 98 minuten (DVD) / 101 minuten (BD)
Beeld: 2.39:1
Audio: Dolby Digital 5.1 Engels, Frans
Ondertiteling: Nederlands, Frans
Kijkwijzer: 16
Consumentenadviesprijs DVD: € 16,99 / Blu-ray: € 17,99
Releasedatum: 22 januari


Recente artikelen
Filteren
Tags
Meer >
Archief
2019

2018

2017

2016

2015

2014

2013

2012

2011

2010

2009

2008

2007

2006

2005

2004

2003

2002

2001
Meer >
Deel deze pagina