Een droomvakantie verandert in een nachtmerrie in YOU SHOULD HAVE LEFT - 21 oktober op DVD en BD
De droomvakantie van Kevin Bacon en Amanda Seyfried verandert in een nachtmerrie...
YOU SHOULD HAVE LEFT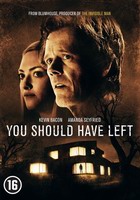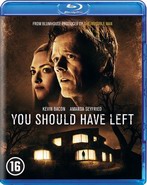 Vanaf 21 oktober verkrijgbaar op DVD en Blu-ray
In deze psychologische thriller spelen Kevin Bacon en Amanda Seyfried een koppel dat verlangt naar een rustgevende vakantie op het afgelegen platteland van Wales. Wat begint als een droomvakantie verandert plotseling in een nachtmerrie waar de realiteit begint te ontrafelen, duistere herinneringen terug beginnen te komen en een sinistere kracht hen niet wil laten gaan. Van Blumhouse Productions en legendarische scenario schrijver David Koepp (Jurassic Park, Mission: Impossible, Panic Room).
Genre: Horror, Thriller
Cast: Kevin Bacon, Amanda Seyfried, Avery Tiiu Essex
Regie: David Koepp
Technische Specificaties DVD:
Speelduur: 90 minuten
Beeld: 1.85:1
Audio: Engels - Dolby Digital 5.1
Ondertiteling: Engels voor doven en slechthorenden, Engels, Nederlands, Frans, Deens, Zweeds, Noors, Hongaars, Pools, Duits, Fins
Kijkwijzer: 16
Technische Specificaties BD:
Speelduur: 93 minuten
Beeld: 1.85:1
Audio: Engels - DTS-HD MA 5.1
Ondertiteling: Engels voor doven en slechthorenden, Engels, Nederlands, Frans, Deens, Zweeds, Noors, Hongaars, Pools, Duits, Fins
Kijkwijzer: 16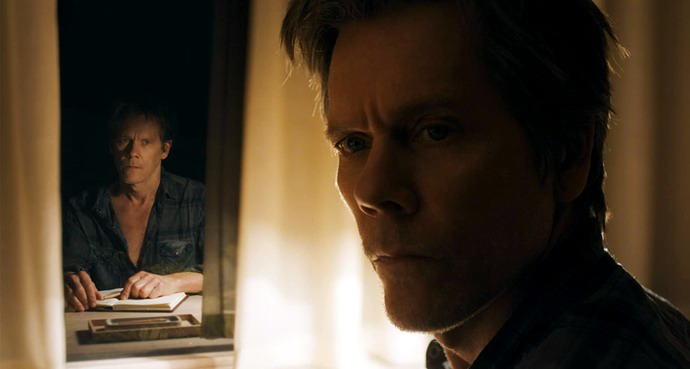 Recente artikelen
Filteren
Tags
Meer >
Archief
2020

2019

2018

2017

2016

2015

2014

2013

2012

2011

2010

2009

2008

2007

2006

2005

2004

2003

2002

2001
Meer >
Deel deze pagina