Het vervolg op de enorme kaskraker PACIFIC RIM: UPRISING is vanaf 25 juli verkrijgbaar met Dolby Atmos
De opvolger van het enorme kassucces
PACIFIC RIM 2: UPRISING


vanaf 25 juli verkrijgbaar op DVD, (3D) Blu-ray en 4K Ultra HD
In de spectaculaire 3D-actiefilm van Steven S. DeKnight (o.a. de Daredevil-serie van Netflix) Pacific Rim: Uprising gaan de piloten van de Jaeger-robots opnieuw de strijd aan met kolossale en allesvernietigende monsters. John Boyega (Star Wars: The Force Awakens) speelt Jake Pentecost, een rebelse voormalig Jaeger piloot. Zijn vader offerde zichzelf op om de mensheid te redden van de Kaiju monsters. De zus van Jake, Mako Mori (Rinko Kikuchi) is de leider van een nieuwe generatie piloten die zich verenigen tegen de dreiging. In hun voorbereiding om de grootste krijgsmacht te worden die de aarde ooit gekend heeft werkt Jake samen met zijn rivaal, de getalenteerde piloot Lambert (Scott Eastwood, Fast & Furious 8). Daarnaast wordt Jake bijgestaand door de vijftienjarige Jaeger-hacker Amara (nieuwkomer Cailee Spaeny).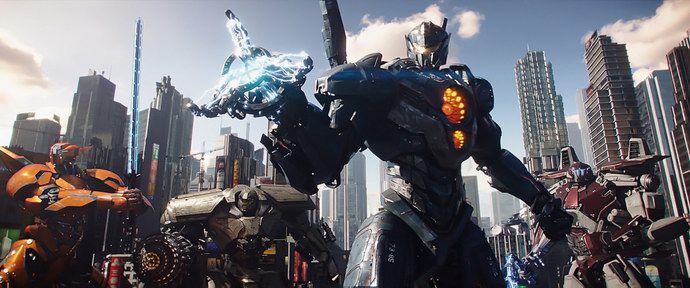 Genre: Actie, Avontuur, Science Fiction
Regisseur: Steven S. DeKnight
Cast: Burn Gorman, Charlie Day, John Boyega, Scott Eastwood, Cailee Spaeny
Bonus features
Deleted Scenes met audiocommentaar van regisseur Steven DeKnight
Hall of Heroes
Bridge to Uprising
Becoming Cadets
Unexpected Villain
Next Level Jaegers
En veel meer!
Technische specificaties DVD:
Speelduur: 137 minuten
Audio: Engels, Frans Dolby Digital 5.1
Beeld: 2.40:1 Widescreen
Ondertiteling: Engels, Frans, Nederlands
Technische specificaties (3D)Blu-ray:
Speelduur: 140 minuten
Audio: Engels Dolby Atmos, Frans Dolby Digital Plus 7.1
Beeld: 2.40:1 1080p
Ondertiteling: Engels, Frans, Nederlands
Technische specificaties UHD:
Speelduur: 140 minuten
Audio: Engels Dolby Atmos, Frans Dolby Digital Plus 7.1
Beeld: 2.40:1 4K
Ondertiteling: Engels, Frans, Nederlands

Recente artikelen
Filteren
Tags
Meer >
Archief
2018

2017

2016

2015

2014

2013

2012

2011

2010

2009

2008

2007

2006

2005

2004

2003

2002

2001
Meer >
Deel deze pagina