Living Colour: DVD releases in maart 2007
Living Colour - DVD releases maart 2007


MASTERPIECES OF THE BRITISH MUSEUM (6DVD)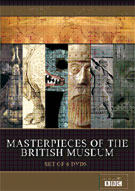 Het Londense British Museum wordt jaarlijks door meer dan 5 miljoen bezoekers bezocht. In het museum ligt een uitgebreide collectie oudheden en uitzonderlijke kunstvoorwerpen uit oude en hedendaagse beschavingen. De verzameling overbrugt meer dan een miljoen jaar geschiedenis van de mensheid en is één van de mooiste ter wereld.

De DVD-box belicht 6 meesterwerken uit de omvangrijke collectie van het British Museum. De 6 meesterwerken zijn:
The Sutton Hoo Helmet: Deze fascinerende film onderzoekt de helm tot in de details en zoekt naar de ware identiteit van de Anglo-Saksische koning die ooit door het fantastische gezichtsmasker keek.
The Lewis Chessmen: Deze film gaat over het verhaal van de wereldberoemde Lewis schaakstukken- een verhaal dat vol raadsels en intriges zit - en bespreekt hun plaats binnen de geschiedenis van het oude schaakspel en de feodale maatschappij van die tijd.
Dürer's Rhinoceros: Deze film onderzoekt de buitengewone aantrekkingskracht van het meesterwerk van Dürer en vertoond hoe zijn verfijnde ontwikkeling van zijn houtsnijd techniek het idee bracht van meervoudige beelden in schone kunsten en maakte hem internationaal vermaard.
The Assyrian Lion Hunt Reliefs: Deze film legt de betekenis van de albasten steunen, hun context en ontdekking uit en waarom zij klaarblijkelijk als een meesterwerk beschouwd worden.
The Aztec Double-Headed Serpent: Deze boeiende film onderzoekt de mooie turkooizen mozaïeken slang die een meesterwerk van de Mexicaanse Galerij van het British Museum is.
The Head of an Ife King: Deze film vertelt het verhaal van het hoofd van de Oni, het beeldhouwwerk van de Koning van Ife die tegenwoordig terecht gezien wordt als een van de hoogste prestaties van Afrikaanse kunst en cultuur.

Releasedatum 1 maart 2007
Artikelnummer 1187591
Technical Specifications
Language Engels
Run time 6 x ca. 30 min
Subtitles None
regio NTSC, All Regions
Aspect ratio 4:3
Audio Dolby Digital 2.0
Rating
Genre Special interest
---
ADAM'S RIB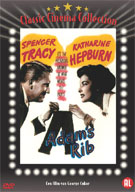 Adam Bonner, assistent officier van justitie, houdt zielsveel van zijn vrouw Amanda. Maar wanneer Amanda, een advocate, het opneemt voor de vrouwelijke gedaagde (Judy Holliday) in een sensationeel proces, geeft de aanklager geen duimbreed toe. Amanda, van haar kant, grijpt de mislukte moordpoging op een overspelige echtgenoot aan om er een feministische zaak van te maken. Uiteraard zorgt het juridische steekspel in de rechtzaal ook voor spitsvondig gebekvecht aan het thuisfront.
De chemie tussen Spencer Tracy en Katharine Hepburn, die ook in het echte leven man en vrouw waren, spettert van het scherm in deze klassieke komedie van regisseur George Cukor over de eeuwige strijd tussen de sexen. Het scenario, overigens ook geschreven door twee echtgenoten - Ruth Gordon en Garson Kanin - werd genomineerd voor een Oscar®.

Regie: George Cukor (My Fair Lady, A Star is Born)
Cast: Spencer Tracy (Dr. Jekyll and Mr. Hyde, It's a Small World)
Katharine Hepburn (African Queen, On Golden Pond)
Awards: Nominatie voor een Oscar in de categorie 'Best Writing, Story and Screenplay'
Nominatie voor Golden Globe in de categrorie 'Best Supporting Actress': Judy Holliday

Releasedatum 22 maart 2007
Artikelnummer 1456611
Language Frans, Engels, Italiaans,
Run time 98
Subtitles Nederlands, Engels, Frans, Italiaans, Roemeens, Arabisch
regio PAL, Region 2
Aspect ratio 4:3 (1,33) Audio 1.0 mono
Rating Genre comedy
---
FURY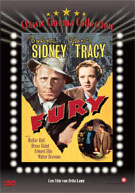 Als Joe Wilson vals wordt beschuldigd, en een bloeddorstige meute die hem wil lynchen de gevangenis in brand steekt, denkt iedereen dat hij daarbij is omgekomen. Joe heeft het echter overleefd, alleen zijn al zijn idealen en illusies in het vuur achtergebleven. Nu stelt hij alles in het werk om zijn beulen het lot te laten ondergaan waaraan hij zo wonderbaarlijk is ontsnapt. Spencer Tracy is Joe en Sylvia Sidney speelt zijn aanstaande bruid. Fury is een passend explosieve titel voor deze brandende aanklacht tegen de lynchpartijen.
In zijn eerste Amerikaanse film hanteert regisseur Fritz Lang zijn passie voor gerechtigheid en een doordringende visuele stijl om een mijlpaal te scheppen in de historie van de sociaalbewuste film.

Regie: Fritz Lang (Metropolis, The Big Heat)
Cast: Spencer Tracy (Boys Town, Captains Courageous, Guess who's coming to Diner, The Actress)
Sylvia Sidney (An Early Frost, Beetle Juice, Summer Wishes Winter Dreams)
Awards: Oscar© nominatie voor het script

Releasedatum 22 maart 2007
Artikelnummer 1466901
Technical Specifications
Language Engels, Italiaans
Run time 89
Subtitles Nederlands, Engels, Frans, Italiaans, Roemeens, Arabisch, Bulgaars.
regio PAL, Region 2
Aspect ratio 4:3 (1,33) Audio 1.0
Rating
Genre misdaad
Bonus Commentaar van Peter Bogdanovich met fragmenten uit een interview met regisseur Fritz Lang
---
GOODBYE MR. CHIPS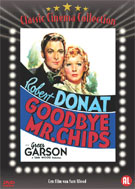 Al sinds de dagen van Sir Francis Drake stoomt Brookfield School de aanstormende jeugd van Engeland klaar voor zijn toekomstige taak als steunpilaar van het Keizerrijk. Bange jongens worden er kordate jongemannen. Het kruim van Engeland is opgevoed volgens de 'Brookfieldtraditie' een traditie belichaamd door de oude schooldirecteur, Mr. Chipping. Of liever: Mr. Chips, want zo wordt hij door iedereen met liefdevol respect genoemd.
Robert Donat won een Oscar® voor zijn vertolking van de stijve, weinig populaire leraar die door de liefde verandert in een lichtend voorbeeld voor zijn leerlingen. Greer Garson debuteert als de dame wiens levenslust de leraar een lesje leert, en werd meteen voor een Oscar® genomineerd. Haar les blijft hangen, net als deze tijdloze, diepmenselijke film. Iedereen die met genegenheid terugdenkt aan een favoriete leraar, zal Goodbye, Mr. Chips zeker een warm hart toedragen.

Regie: Sam Wood (For Whom the Bell Tolls en Kings Row)
Cast: Robert Donat (The Citadel en The Inn of the Sixth Happiness) en Greer Garson (Mrs. Miniver, Madame Curie en Blossoms in the Dust)
Awards: Oscar voor Robert Donat in de categorie beste mannelijke hoofdrol, 6 Oscar nominaties, 1 nominatie Gouden Palm.

Releasedatum 22 maart 2007
Artikelnummer 1458371
Technical Specifications
Language Engels, Frans
Run time 110
Subtitles Nederlands, Engels, Spaans, Frans, Duits, Roemeens, Arabisch.
regio PAL, Region 2
Aspect ratio 4:3 (1,37) Audio 1.0
Rating
Genre drama
---
NANOOK OF THE NORTH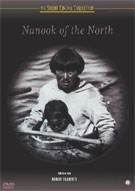 Robert Flaherty's baanbrekende Nanook of the North (1922) was de eerste lange antropologische documentaire in de filmgeschiedenis. De film gaat over Nanook, een Eskimo (Inuit), en zijn gezin die gedurende een jaar gevolgd zijn door de camera van Flaherty. Je ziet hun zoektocht naar voedsel en onderdak, hun gebruiken en gewoontes zonder enige vorm van technologie. De kijker leert de Eskimo's kennen als hardwerkende, vriendelijke en gelukkige mensen ondanks de barre leefomstandigheden.

Regie: Robert Flaherty (Louisiana Story)

Releasedatum 22 maart 2007
Artikelnummer 1200001
Language None
Run time 79 min
Subtitles Nederlands
regio PAL, Region 2
Aspect ratio 4:3
Audio 1.0
Rating
Genre Special Interest
---
THE THIEF OF BAGDAD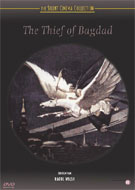 De grootste ster uit de 20-er jaren, Douglas Fairbanks, speelt in deze klassieker de zorgeloze kruimeldief Ahmed. Hij pakt alles wat hij kan totdat hij de mooie prinses van Bagdad ontmoet en verliefd op haar wordt. Om met haar te kunnen trouwen moet hij zijn rivalen verslaan door het meest zeldzame cadeau voor de prinses te vinden. Om dat cadeau te bemachtigen trotseert hij vuur, de dood en vreemde monsters. Zal het hem uiteindelijk lukken om de prinses te trouwen?

Regie: Raoul Walsh (They Drive by Night)
Cast: Douglas Fairbanks (Robin Hood)
Releasedatum 22 maart 2007
Artikelnummer 1250391
Language None
Run time 139
Subtitles Nederlands
regio PAL, region 2
Aspect ratio 4:3
Audio 1.0
Rating
Genre Drama

Recente artikelen
Filteren
Tags
Meer >
Archief
2019

2018

2017

2016

2015

2014

2013

2012

2011

2010

2009

2008

2007

2006

2005

2004

2003

2002

2001
Meer >
Deel deze pagina