Muziekdocumentaire The Wrecking Crew is vanaf 19 juni verkrijgbaar op DVD
Pink Moon presenteert:
THE WRECKING CREW
Vanaf 19 juni op DVD.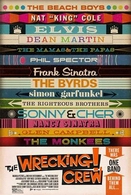 Deze documentaire vertelt het verhaal van The Wrecking Crew, een destijds onbekende groep sessiemuzikanten die verantwoordelijk zijn voor de vele nummer-1 hits van bijvoorbeeld The Beach Boys, Nat "King" Cole, Frank Sinatra, Simon & Garfunkel, Nancy Sinatra, The Monkees en The Byrds. Wat de Funk Brothers deden voor Motown, deed The Wrecking Crew -maar dan grootser- voor de West Coast Sound. In de jaren '60 en '70 ging de Grammy voor 'Album van het Jaar' zes maal op rij naar opnames waar deze club muzikanten verantwoordelijk voor was. Deze film vertelt het verhaal over de onbekende helden via niet eerder vertoonde beelden en het zo herkenbare en glorieuze geluid. De favoriete nummers van een hele generatie komen voorbij, gepresenteerd door de mensen die ze hebben gemaakt.. De film is een mooi eerbetoon aan de muziek, de tijdgeest en de geheime hit-makende machine, alleen bekend als 'The Wrecking Crew'.
Regisseur: Denny Tedesco
Docville 2015 (2e plaats in de Publieksprijs), Selection SXSW, nominated for Best Music Documentary by the International Documentary Association.
Bekijk de trailer:
Releasedatum 19 juni 2015


Recente artikelen
Filteren
Tags
Meer >
Archief
2019

2018

2017

2016

2015

2014

2013

2012

2011

2010

2009

2008

2007

2006

2005

2004

2003

2002

2001
Meer >
Deel deze pagina