Netflix lanceert de trailer van Steven Soderberghs' film THE LAUNDROMAT - vanaf 18 oktober op Netflix
Steven Soderberghs' The Laundromat is vanaf 18 oktober te zien op Netflix
Met sterren als Meryl Streep, Gary Oldman en Antonio Banderas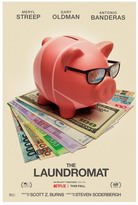 Vandaag heeft Netflix de trailer vrijgegeven van de nieuwe film The Laundromat, gebaseerd op het Panama Papers schandaal.
The Laundromat neemt ons mee op een absurde trip via China, Mexico, Afrika, Los Angeles en het Caribisch gebied naar de uiteindelijke publicatie van de Panama Papers in 2016. Hierin onthulden journalisten de geheime, gelekte documenten van de spraakmakende klanten van het advocatenkantoor Mossack Fonseca.
Nadat haar idyllische vakantie een bizarre wending neemt, start Ellen Martin (Academy Award-winnares Meryl Streep) een onderzoek naar een nep-verzekeringspolis. Ze komt terecht in een dubieuze wereld van twijfelachtige transacties die allemaal één ding gemeen hebben: een advocatenkantoor in Panama City. Een kantoor dat de rijkste burgers ter wereld helpt om nog rijker te worden. De charmante - en zeer goed geklede - oprichters Jürgen Mossack (Academy Award-winnaar Gary Oldman) en Ramón Fonseca (Golden Globe-genomineerde Antonio Banderas) zijn experts in alle mogelijke tactieken om via lege vennootschappen en offshore-accounts de allerrijksten nóg rijker te maken. Via hen ontdekken we dat Ellen's hachelijke situatie wordt veroorzaakt door de belastingontduiking, omkoping en andere illegale absurditeiten waaraan de superrijken zich overleveren. Zo houden zij ons corrupte financiële systeem in stand.
The Laundromat is geregisseerd door Academy Award-winnaar Steven Soderbergh (Ocean's Eleven, Magic Mike) naar het scenario van Scott Z. Burns (The Informant!, The Report), gebaseerd op 'Secrecy World' van Pulitzer winnaar en onderzoeksjournalist Jake Bernstein. De cast bestaat onder meer uit Meryl Streep, Gary Oldman, Antonio Banderas, Jeffrey Wright, Melissa Rauch, Jeff Michalski, Jane Morris, Robert Patrick, David Schwimmer, Cristela Alonzo, Larry Clarke, Will Forte, Chris Parnell, Nonso Anozie, Larry Wilmore, Jessica Allain, Nikki Amuka-Bird, Matthias Schoenaerts, Rosalind Chao, Kunjue Li, Ming Lo, James Cromwell en Sharon Stone.


Recente artikelen
Filteren
Tags
Meer >
Archief
2020

2019

2018

2017

2016

2015

2014

2013

2012

2011

2010

2009

2008

2007

2006

2005

2004

2003

2002

2001
Meer >
Deel deze pagina