Night Train to Lisbon is vanaf heden te koop op DVD en Blu-ray Disc
Paradiso Home Entertainment presenteert:
NIGHT TRAIN TO LISBON
vanaf 5 december te koop op DVD en Blu-ray Disc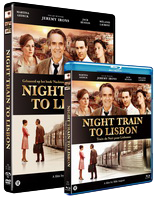 Het leven van Raimund Gregorius (Jeremy Irons), een geliefd leraar Latijn en deskundige in oude talen, neemt een bijzondere wending wanneer hij een mysterieuze jonge vrouw behoed haar leven te beëindigen door van een brug te springen. Als de vrouw vervolgens spoorloos verdwijnt laat ze haar jas bij Raimund achter, met daarin een boek van Portugese dokter Amadeu de Prado en een nachttreinticket naar Lissabon. Hij besluit het ticket te gebruiken en al zoekende naar de achtergrond van het boek en de schrijver ontvouwt zich langzaam een tragische liefdesgeschiedenis, vol emotionele intriges en overdenkingen naar de ware zin van het leven. NIGHT TRAIN TO LISBON is de indrukwekkende verfilming van het gelijknamige bestseller boek van Pascal Mercier.
CAST:
Jeremy Irons (Beautiful Creatures, Margin Call, Appaloosa)
Mélanie Laurent (Now You See Me, Beginners)
Jack Huston (Mr. Nice, Outlander, Kill Your Darlings)
Lena Olin (Remember Me, Awake, The Reader)
REGIE: Bille August
GENRE: Mystery, Romance, Thriller
Technische specificaties DVD
GELUID: Engels DD 5.1/DTS 5.1
BEELD: Widescreen 16:9
ONDERTITELING: Nederlands
Technische specificaties Blu-ray Disc
GELUID: Engels DTS HD-MA 5.1
BEELD: 1080 HD
ONDERTITELING: Nederlands



Recente artikelen
Filteren
Tags
Meer >
Archief
2019

2018

2017

2016

2015

2014

2013

2012

2011

2010

2009

2008

2007

2006

2005

2004

2003

2002

2001
Meer >
Deel deze pagina