Releasedatum Dead Shot verschoven

5 september 2023
Nieuwe releasedatum
DEAD SHOT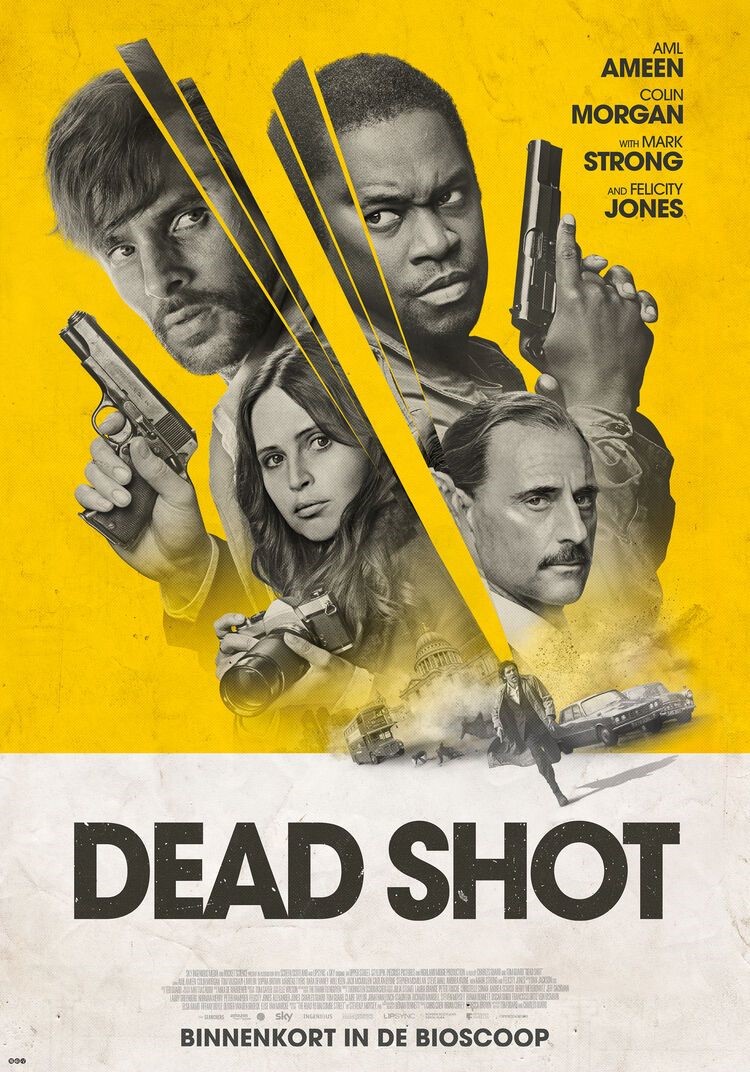 Vanaf 23 november in de bioscoop
De releasedatum van Dead Shot is verplaatst van 28 augustus naar 23 november. Bekijk hier de trailer.
Ierland, jaren '70. De Ierse ex-militair Michael O'Hara en zijn zwangere vrouw willen een nieuw bestaan opbouwen, maar hij wordt nog altijd gezocht door de SAS. Wanneer ze de grens willen oversteken, gaat het mis en ziet Michael zijn vrouw sterven door toedoen van de Britse sergeant Tempest. De gewonde Michael vlucht naar Londen. Daar legt hij opnieuw contact met ondergedoken IRA-leden en droomt van maar één ding: wraak.
Dead Shot is geregisseerd door Charles & Thomas Guard, die eerder samen The Uninvited maakten. De hoofdrollen worden vertolkt door Aml Ameen (Yardie, The Maze Runner), Colin Morgan (Legend, Belfast), Mark Strong (1917, Shazam!) en Felicity Jones (The Theory of Everything, Star Wars: Rogue One).
Eerder aangekondigde releases van The Searchers:
Golda – release 21 september
Regie: Guy Nattiv | Cast: Helen Mirren, Camille Cottin, Ed Stoppard
Retribution - release 21 september
Regie: Nimród Antal | Cast: Liam Neeson, Jack Champion, Embeth Davidtz, Matthew Modine
Dumb Money - release 28 september
Regie: Craig Gillespie | Cast: Paul Dano, Seth Rogen, Pete Davidson, Shailene Woodley, Vincent D'Onofrio, Sebastian Stan, America Ferrera en Nick Offerman
Past Lives – release 5 oktober
Regie: Celine Song | Cast: John Magaro, Greta Lee, Teo Yoo
Dear David – release 12 oktober
Regie: John PcPhail | Cast: Justin Long, Andrea Bang en Augustus Prew
The Marsh King's Daughter – release 19 oktober
Regie: Neil Burger | Cast: Daisy Ridley, Ben Mendelsohn, Garrett Hedlund
Hardcore Never Dies – release 9 november
Regie: Jim Taihuttu | Cast: Joes Brauers, Jim Deddes, Rosa Stil
Dead Shot - release 23 november
Regie: Charles & Thomas Guard | Cast: Aml Ameen, Colin Morgan, Mark Strong, Felicity Jones
May December – release 30 november
Regie: Todd Haynes | Cast: Natalie Portman, Julianne Moore
Op de hoogte blijven van alle releases van The Searchers:
www.thesearchers.be | Facebook | Instagram
Over The Searchers
Sinds 2015 financiert en distribueert de onafhankelijke filmdistributeur The Searchers internationale arthouse en commerciële films. Met vestigingen in Nederland en België bedient de distributeur de hele Benelux en behaalde successen met releases als Everything, Everywhere All at Once, Operation Fortune en Beautiful Boy. Dit jaar staan onder meer de films How to Blow Up a Pipeline, Dumb Money en Past Lives gepland voor distributie in Nederland en België.

Recente artikelen
Filteren
Tags
Meer >
Archief
2023

2022

2021

2020

2019

2018

2017

2016

2015

2014

2013

2012

2011

2010

2009

2008

2007

2006

2005

2004

2003

2002

2001
Meer >
Deel deze pagina