Warner Music: The McCartney Years
The McCartney Years

Op 9 november verschijnt een prachtige 3-DVD box getiteld The McCartney Years met het ultieme visuele overzicht van de solocarrière van één van de grootste singer/songwriters allertijden: Paul McCartney.
Op de eerste twee discs staan in totaal 40 muziekvideos, van 'Maybe I'm Amazed' uit 1970 tot 'Fine Line' uit 2005. De derde disc bevat drie legendarische live optredens te weten ROCKSHOW, gefilmd tijdens de Wings' 1976 World Tour, het UNPLUGGED concert uit 1991 en McCartney's optreden tijdens het GLASTONBURY Festival van 2004.
The McCartney Years bevat uiteraard veel extra's zoals interviews en persoonlijk commentaar bij alle beelden. Maar ook zijn optreden tijdens de SUPERBOWL en de live versie van 'Let It Be' tijdens LIVE AID.
The McCartney Years is verpakt in een luxe digipack en bevat ruim 6 uur aan materiaal in widescreen en 5.1 Surround Sound.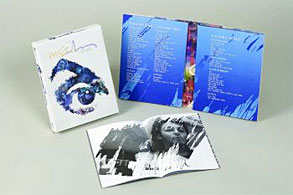 VOLUME ONE

PLAYLIST
TUG OF WAR
SAY SAY SAY
SILLY LOVE SONGS
BAND ON THE RUN
MAYBE I'M AMAZED
HEART OF THE COUNTRY
MAMUNIA
WITH A LITTLE LUCK
GOODNIGHT TONIGHT
WATERFALLS
MY LOVE
C-MOON
BABY'S REQUEST
HI HI HI
EBONY AND IVORY
TAKE IT AWAY
MULL OF KINTYRE
HELEN WHEELS
I'VE HAD ENOUGH
COMING UP
WONDERFUL CHRISTMASTIME
EXTRAS
THE SOUTHBANK SHOW
JUNIOR'S FARM
BAND ON THE RUN
LONDON TOWN
MULL OF KINTYRE 2
VOLUME TWO

PLAYLIST
PIPES OF PEACE
MY BRAVE FACE
BEAUTIFUL
FINE LINE
NO MORE LONELY NIGHTS
THIS ONE
LITTLE WILLOW
PRETTY LITTLE HEAD
BIRTHDAY
HOPE OF DELIVERANCE
ONCE UPON A LONG AGO
ALL MY TRIALS
BROWN EYED HANDSOME MAN
PRESS
NO OTHER BABY
OFF THE GROUND
BIKER LIKE AN ICON
SPIES LIKE US
PUT IT THERE
FIGURE OF EIGHT
C'MON PEOPLE
EXTRAS
PARKINSON
SO BAD
CREATING CHAOS AT ABBEY ROAD
VOLUME THREE

ROCKSHOW
VENUS AND MARS
ROCKSHOW
JET
MAYBE I'M AMAZED
LADY MADONNA
LISTEN TO WHAT THE MAN SAID
BLUEBIRD
UNPLUGGED
I LOST MY LITTLE GIRL
EVERY NIGHT
AND I LOVE HER
THAT WOULD BE SOMETHING
GLASTONBURY
JET
FLAMING PIE
LET ME ROLL IT
BLACKBIRD
BAND ON THE RUN
BACK IN THE USSR
LIVE AND LET DIE
HEY JUDE
YESTERDAY
HELTER SKELTER
SGT. PEPPER'S LONELY HEARTS CLUB BAND
EXTRAS
LIVE AID
THE SUPERBOWL XXXIX

Recente artikelen
Filteren
Tags
Meer >
Archief
2020

2019

2018

2017

2016

2015

2014

2013

2012

2011

2010

2009

2008

2007

2006

2005

2004

2003

2002

2001
Meer >
Deel deze pagina