De actiefilm LINE OF DUTY - met Aaron Eckhart - verschijnt 30 oktober op DVD en Blu-ray
The clock is ticking, the world is watching!
LINE OF DUTY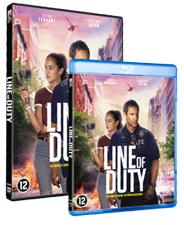 vanaf 30 oktober verkrijgbaar op DVD en Blu-ray Disc
Politieagent Frank Penny schiet per ongeluk een kidnapper dood tijdens een poging hem te arresteren. Het slachtoffer van de ontvoering is de 11-jarige dochter van de politiechef en Frank zet alles op het spel om zijn eer te herstellen en haar te redden. Tijdens zijn zoektocht wordt hij bijgestaan door de jonge journaliste Ava Brooks. Zij volgt Frank op de voet en zendt alles live uit op haar nieuwskanaal. Als de broer van de ontvoerder opduikt, moeten Frank en Ava niet alleen het meisje zien te vinden maar er zelf ook levend uit zien te komen. Terwijl de stad toekijkt, begint het bijzondere duo aan een race tegen de klok.
CAST: Aaron Eckhart (The Dark Knight, Olympus Has Fallen, Erased), Courtney Eaton (Mad Max: Fury Road, Gods Of Egypt), Giancarlo Esposito (Breaking Bad, The Mandalorian), Ben McKenzie (Gotham, The O.C., 88 Minutes)
REGIE: Steven C. Miller
GENRE: Actie
TAAL Engels
ONDERTITELING: Nederlands
AUDIO: Dolby Digital 5.1 / DTS HD-Master Audio
BEELD: 2.39:1
SPEELDUUR 95 min
KIJKWIJZER 12

Deel deze pagina
Lees meer

Recente artikelen
Filteren
Tags
Meer >
Archief
2020

2019

2018

2017

2016

2015

2014

2013

2012

2011

2010

2009

2008

2007

2006

2005

2004

2003

2002

2001
Meer >
Deel deze pagina