De actievolle western A FISTFUL OF LEAD is vanaf 18 juli te koop op DVD
Will anyone take vengeance?
A FISTFUL OF LEAD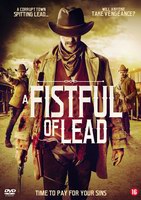 vanaf 18 juli verkrijgbaar op DVD
Vier van de meest beruchte boeven in het Westen voeren een gedurfde bankoverval uit in de goudkoortsstad Bath Water. Terwijl de achtervolging op het viertal wordt ingezet, loopt het verkeerd af. De bandieten beseffen dat ze zijn misleid, maar door wie?
Regie: Marc Price
Cast: James Groom, Tom Nolan, Duncan Casey, Chris Rogers, Kaitlyn Riordan
Genre: Actie Western
Speelduur: 86 min
Taal: Engels
Geluid: Dolby Digital 5.1
Beeld: 2.35:1
Ondertiteling: Nederlands
Kijkwijzer: 16
Releasedatum: 18 juli




Recente artikelen
Filteren
Tags
Meer >
Archief
2020

2019

2018

2017

2016

2015

2014

2013

2012

2011

2010

2009

2008

2007

2006

2005

2004

2003

2002

2001
Meer >
Deel deze pagina