De favoriete huisdieren zijn weer van de partij in SECRET LIFE OF PETS 2 - vanaf 13 november verkrijgbaar
De favoriete huisdieren zijn terug
SECRET LIFE OF PETS 2
(HUISDIERGEHEIMEN 2)

Vanaf 13 november op DVD, (3D) Blu-ray en 4K UHD
Ook als boxset met 1 & 2
The Secret Life of Pets 2 - of in het Nederlands Huisdiergeheimen 2 - is de vrolijke animatiefilm van Illumination Entertainment en Universal Pictures, de makers van De Grinch, Minions en Sing. Beleef vanaf 13 november de avonturen van de trouwe terriër Max en zijn maatjes in The Secret Life of Pets 2/Huisdiergeheimen 2 op 4K Ultra HD, (3D) Blu-ray en DVD. Het langverwachte vervolg op de grote hit The Secret Life of Pets/Huisdiergeheimen uit 2016 neemt je opnieuw mee in het hilarische leven van de huisdieren als de baasjes van huis zijn.
Opnieuw volgen wij de fantastische avonturen van Max, de slome kat Chloe, het snoezige dwergkeeshondje Gidget, mopshond en lady-killer Mel, de knorrige bastaard Duke, de onnozele cavia Norbert en het schattige maar gestoorde konijntje Sneeuwbal.
Het scenario van The Secret Life of Pets 2/Huisdiergeheimen 2 is net als het eerste deel geschreven door Brian Lynch (Minions) en de regie is wederom in handen van Chris Renaud (de Despicable Me-films, De Lorax en het Verdwenen Bos).
In de Nederlands gesproken versie met de stemmen van o.a. Fedja van Huêt (Max), Frank Lammers (Duke), Jandino Asporaat (Sneeuwbal), Peggy Vrijens (Gidget), Karin Bloemen (Chloe), Georgina Verbaan (Katie), Erik van Muiswinkel (Pops), Roué Verveer (Buddy), DJ Hardwell (Mel), Murth Mossel (Ozon), Derek de Lint (Tiberius) en Henry van Loon (Norbert).
Genre: Animatie, Komedie, Familie
Regie: Chris Renaud
Cast: Kevin Hart, Dana Carvey, Ellie Kemper, Jenny Slate, Steve Coogan, Harrison Ford
Technische Specificaties DVD:
Speelduur: 82 minuten
Beeld: 1.85:1
Audio: Engels, Frans, Vlaams, Nederlands Dolby Digital 5.1
Ondertiteling: Engels voor doven en slechthorenden, Engels, Frans, Nederlands
Technische Specificaties Blu-ray en 3D Blu-ray:
Speelduur: 85 minuten
Beeld: 1.85:1 – 1080p
Audio: Engels Dolby Atmos, Frans Dolby Digital Plus 7.1, Nederlands, Vlaams Dolby Digital 5.1
Ondertiteling: Engels voor doven en slechthorenden, Engels, Frans, Nederlands
Technische Specificaties UHD:
Speelduur: 85 minuten
Beeld: 1.85:1 – 4K
Audio: Engels Dolby Atmos, Frans Dolby Digital Plus 7.1, Nederlands, Vlaams Dolby Digital 5.1
Ondertiteling: Engels voor doven en slechthorenden, Engels, Frans, Nederlands
Bonusmateriaal
Mini Movies

Minion Scouts
Super Gidget

The Making of the Mini Movies
Deleted Scenes

Wake Up – Max and Duke have a new morning routine with Liam.
Duke Explores the Farm – Duke has a funny interaction with a goat.
Snowball Karate – Snowball does his superhero warm up.
Secret Confessions – Dogs gather to talk about their deepest secrets

A Tapestry of a Tail: The Making Of
How to Draw – Hosted by Head of Story, Eric Favela, follow the step-by-step tutorial to learn to draw Max, Snowball and Chloe
Frame by Frame: How to Make a Flip Book
Character Pods – Get a closer look at your favorite characters of The Secret Life of Pets 2 with these delightful character pods that might just give away a few more pet secrets.
A Party Fit for a Pet – Using stop motion animation, this step-by-step guide teaches you everything you need to know to throw the very best party for your pet!
Pops' Puppy Training School with Kevin Hart
Pets Yule Log
Lyric Videos

'Panda' Lyric Video
'It's Gonna Be A Lovely Day (The Secret Life of Pets 2)' Lyric Video

The Further Adventures of Captain Snowball (Interactive)
My Buddy and Me – We interview the Illumination cast and crew talking about The Secret Life of Pets 2 while holding (or trying to hold) their pets.
Pets with Jobs: A Documentary
Relax the Cat: The Secret Life of Pets Massage
Production Pets
Ook verkrijgbaar in een boxset met deel 1, zowel op DVD als Blu-ray Disc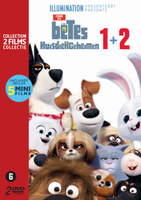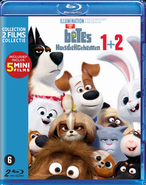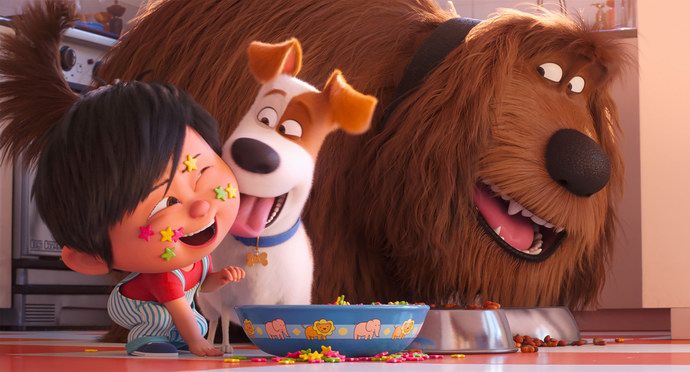 Recente artikelen
Filteren
Tags
Meer >
Archief
2019

2018

2017

2016

2015

2014

2013

2012

2011

2010

2009

2008

2007

2006

2005

2004

2003

2002

2001
Meer >
Deel deze pagina