GODZILLA: KING OF THE MONSTERS - verkrijgbaar op DVD, Blu-ray en UHD met 3D Blu-ray
One King To Rule Them All!
GODZILLA: KING OF THE MONSTERS

vanaf 2 oktober op DVD, Blu-ray Disc en 4K UHD
tevens beschikbaar via Video on Demand aanbieders Ziggo en KPN
Na het wereldwijde succes van Godzilla uit 2014 en Kong: Skull Island uit 2017, volgt het volgende hoofdstuk uit de MonsterVerse: een episch actie-avontuur waarin Godzilla tegenover de meest populaire monsters uit de popcultuur-geschiedenis staat.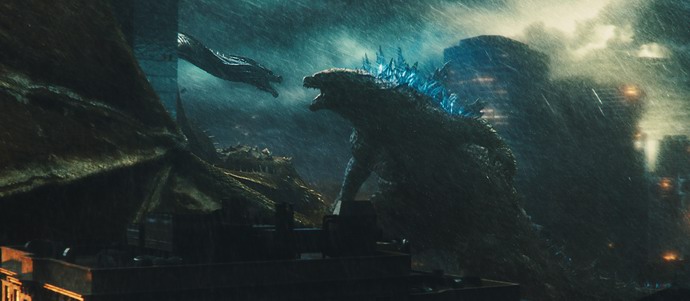 Godzilla: King of Monsters, met hoofdrollen voor Kyle Chandler, Vera Farmiga en Millie Bobby Brown, volgt de heldhaftige pogingen van het crypto-zoölogische agentschap Monarch, dat het opneemt tegen een reeks reusachtige monsters. Onder hen bevinden zich de machtige Godzilla, Mothra, Rodan en de aartsvijand, de driekoppige King Ghidorah. Terwijl de wezens allemaal strijden voor suprematie, hangt het voortbestaan van de mensheid aan een zijden draadje.
Godzilla: King of Monsters is geregisseerd door Michael Dougherty (Krampus, Superman Returns). De hoofdrollen worden gespeeld door Kyle Chandler (The Wolf of Wall Street, Bloodline), Oscarnominee Vera Farmiga (Up in the Air, The Conjuring-films, Bates Motel) en Millie Bobby Brown (Stranger Things). Verder spelen mee: Bradley Whitford (Get Out, The Post), Oscargenomineerden Sally Hawkins (The Shape of Water, Blue Jasmine), Charles Dance (Game of Thrones,The Imitation Game), Thomas Middleditch (The Wolf of Wall Street), Aisha Hinds (Star Trek Into Darkness), O'Shea Jackson Jr. (Straight Outta Compton), Oscarnominee David Strathairn (Godzilla) en Ken Watanabe (The Last Samurai, Inception) en Golden Globe-nominee Ziyi Zhang (Memoirs of a Geisha).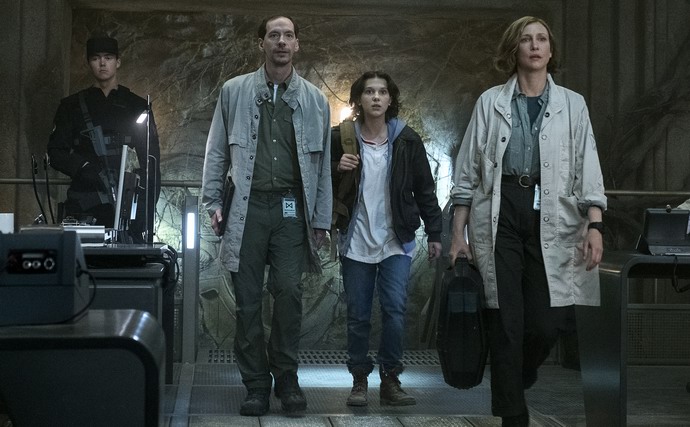 Godzilla: King of the Monsters 4K UHD/Blu-ray special features:
- Commentary by Director Michael Dougherty
- Godzilla: Nature's Fearsome Guardian
- Mothra: Queen of the Monsters
- King Ghidorah: The Living Extinction Machine
- Rodan: Airborne God of Fire
- Godzilla 2.0
- Making Morthra
- Creating Ghidorah
- Reimagining Rodan
- The Yunnan Temple
- Castle Bravo
- The Antarctic Base
- The Isla de Mara Volcano
- The Undersea Lair
- Millie Bobby Brown: Force of Nature
- Monster Tech: Monarch Joins the Fight
- Monsters Are Real
- Welcome to the Monsterverse
- Deleted Scenes
Technical specs DVD
Audio: Dolby Digital 5.1
Beeld; 2.35:1 16:9
Taal: Engels, Frans, Italiaans, Duits
Ondertiteling: Nederlands, Frans, Engels SDH.
Speelduur: 120 min
Kijkwijzer: 12
Extra: Monster Tech: Monarch Joins the Fight
Technical specs Blu-ray
Audio: DTS-HD Master Audio 5.1 | Dolby Atmos
Beeld; 2.35:1 1080p
Taal: Engels, Frans
Ondertiteling: Nederlands, Frans, Engels SDH.
Speelduur: 125 min
Kijkwijzer: 12
Technical specs UHD+3D Blu-ray
Audio: DTS-HD Master Audio 5.1 | Dolby Atmos
Beeld; 2.35:1 4K
Taal: Engels, Frans
Ondertiteling: Nederlands, Frans, Engels SDH.
Speelduur: 125 min
Kijkwijzer: 12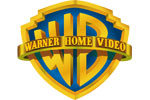 Recente artikelen
Filteren
Tags
Meer >
Archief
2020

2019

2018

2017

2016

2015

2014

2013

2012

2011

2010

2009

2008

2007

2006

2005

2004

2003

2002

2001
Meer >
Deel deze pagina