Freelance - 2 november in de bioscoop

Actie, gevaar en één belangrijke missie in
Freelance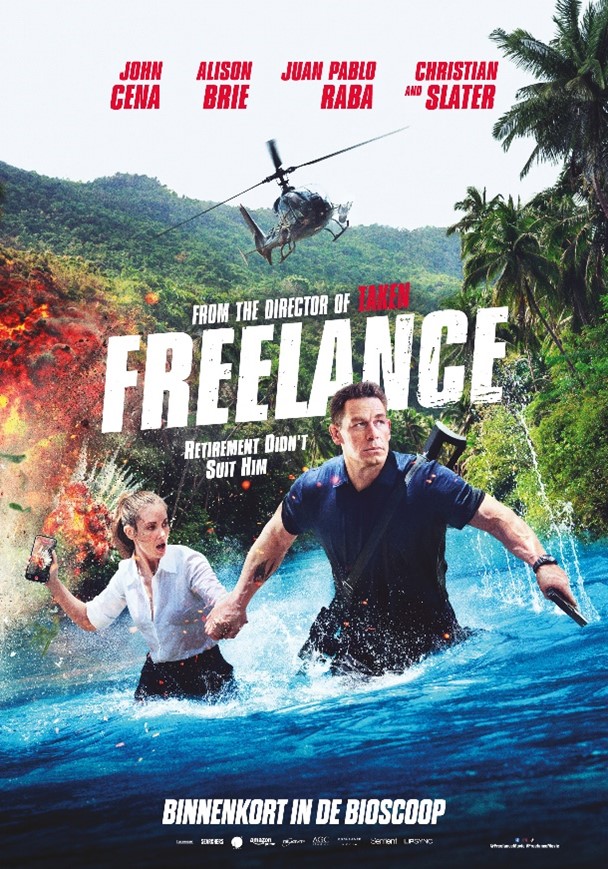 Vanaf 2 november in de bioscoop
Hollywoodsterren John Cena (The Suicide Squad, Bumblebee, Fast & Furious 9) en Alison Brie (GLOW, Community, Promising Young Woman) gaan op missie in de komische actiefilm Freelance van regisseur Pierre Morel (Banlieue 13, The Gunman, Taken). The Searchers brengt Freelance op 2 november uit in de bioscoop. Bekijk hier de trailer.
Wanneer Mason (John Cena) besluit het leger te verlaten om een gezin te stichten, wordt zijn nieuwe leven onderbroken door een gevaarlijke missie. Hij wordt aangewezen om een journalist (Alison Brie) te begeleiden wanneer zij een beruchte dictator interviewt. Wanneer er tijdens het interview plotseling een militaire staatsgreep plaatsvindt, worden de drie onverwacht gedwongen om samen te vluchten.
John Cena heeft bekende filmtitels op zijn naam staan zoals The Suicide Squad, Bumblebee en Fast & Furious 9. Naast een brede acteercarrière heeft Cena ook succes geboekt in de World Wrestling Entertainment (WWE) als één van de meest invloedrijke entertainment worstelaars.

Alison Brie is bij het grote publiek bekend geworden met haar rol in de serie GLOW. Voor deze rol heeft ze een Golden Globe nominatie binnengesleept. Ook rollen in verschillende films als Promising Young Woman en De Lego Film staan op haar naam.
Regisseur Pierre Morel is vooral bekend van de film Taken uit 2008. Ook mag hij de film From Paris With Love op zijn naam schrijven met in de hoofdrollen Oscar-winnaars Sean Penn, Javier Bardem en Mark Rylance. Voor de film Freelance heeft hij de regie op zich genomen.

Details
Lengte: 109 min. | Regie: Pierre Morel | Cast: John Cena, Alison Brie, Juan Pablo Raba | Releasedatum: 2 november | Distributie: The Searchers
Aankomende releases van The Searchers:
Golda – release 21 september
Regie: Guy Nattiv | Cast: Helen Mirren, Camille Cottin, Ed Stoppard
Retribution - release 21 september
Regie: Nimród Antal | Cast: Liam Neeson, Jack Champion, Embeth Davidtz, Matthew Modine
Dumb Money - release 28 september
Regie: Craig Gillespie | Cast: Paul Dano, Seth Rogen, Pete Davidson, Shailene Woodley, Vincent D'Onofrio, Sebastian Stan, America Ferrera en Nick Offerman

Past Lives – release 5 oktober
Regie: Celine Song | Cast: John Magaro, Greta Lee, Teo Yoo
Dear David – release 12 oktober
Regie: John PcPhail | Cast: Justin Long, Andrea Bang en Augustus Prew
The Marsh King's Daughter – release 19 oktober
Regie: Neil Burger | Cast: Daisy Ridley, Ben Mendelsohn, Garrett Hedlund
Hardcore Never Dies – release 9 november
Regie: Jim Taihuttu | Cast: Joes Brauers, Jim Deddes, Rosa Stil
Dead Shot - release 23 november
Regie: Charles & Thomas Guard | Cast: Aml Ameen, Colin Morgan, Mark Strong, Felicity Jones
May December – release 30 november
Regie: Todd Haynes | Cast: Natalie Portman, Julianne Moore
Over The Searchers
Sinds 2015 financiert en distribueert de onafhankelijke filmdistributeur The Searchers internationale arthouse en commerciële films. Met vestigingen in Nederland en België bedient de distributeur de hele Benelux en behaalde successen met releases als Everything, Everywhere All at Once, Operation Fortune en Beautiful Boy. Dit jaar staan onder meer de films Golda, Hardcore Never Dies en Past Lives gepland voor distributie in Nederland en België.
Deel deze pagina
Lees meer

Recente artikelen
Filteren
Tags
Meer >
Archief
2023

2022

2021

2020

2019

2018

2017

2016

2015

2014

2013

2012

2011

2010

2009

2008

2007

2006

2005

2004

2003

2002

2001
Meer >
Deel deze pagina