Het eindigt met een climax in FIFTY SHADES FREED - vanaf 6 juni op DVD, BD en UHD
Beleef de climax van het wereldwijde fenomeen
FIFTY SHADES FREED

Vanaf 6 juni op DVD, Blu-ray en 4K Ultra HD
Met veel exclusief bonusmateriaal
In dit laatste deel zijn Jamie Dornan en Dakota Johnson terug als Christian Grey en Anastasia Steele in Fifty Shades Freed, gebaseerd op de bestseller Vijftig Tinten Vrij. Vanaf 6 juni beleef je de climax van dit wereldwijde fenomeen op 4K Ultra HD, Blu-ray en DVD.
Synopsis:
In de overtuiging dat ze de demonen uit hun verleden eindelijk achter zich hebben gelaten, levert het pasgetrouwde en onafscheidelijke koppel Christian (Jamie Dornan, The Fall, Anthropoid) en Ana (Dakota Johnson, How to Be Single, Black Mass) zich volledig over aan elkaar, hun onlosmakelijke band en hun leven van gedeelde luxe. Maar net als zij haar rol als mevrouw Grey op zich wilt nemen en hij zich eindelijk kan ontspannen binnen een stabiele relatie die hij nooit eerder gekend heeft, steken nieuwe bedreigingen de kop op en komt hun happy end in gevaar nog voordat het goed en wel begonnen is. Fifty Shades Freed werd geregisseerd door James Foley (House of Cards, At Close Range) en voert naast enkele vertrouwde gezichten zoals Eric Johnson (The Knick, Smallville) en Rita Ora (Fifty Shades) ook Oscarwinnares Marcia Gay Harden (Fifty Shades of Grey, Miller's Crossing) op.
Genre: Drama, Romantiek
Regie: James Foley
Cast: Jamie Dornan, Dakota Johnson, Eric Johnson, Rita Ora, Marcia Gay Harden
Naast zowel de originele bioscoopversie als een opwindende nieuwe unrated versie, pakt Fifty Shades Freed uit met meer dan 30 minuten nooit eerder vertoond bonusmateriaal, waaronder een weggeknipte scène, interviews met de cast en tal van reportages die u meenemen achter de schermen. In dit laatste deel beleef je nog meer passie, meer drama en meer suspense op 4K Ultra HD, Blu-ray en DVD.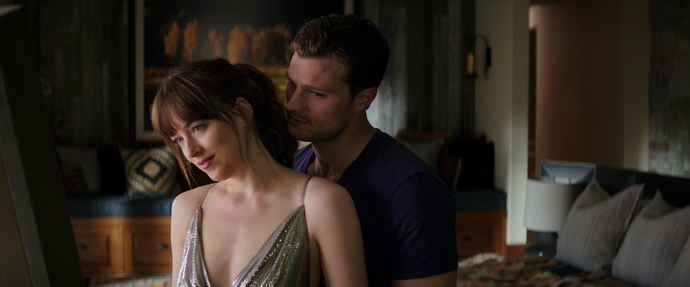 Technische Specificaties DVD:
Video/Aspect ratio 2.40:1
Audio: Dolby Digital 5.1: Engels, Frans
Ondertiteling: Engels voor doven en slechthorenden, Frans, Nederlands
Speelduur: Unveiled Edition: ca. 105 min. Theatrical: ca. 101 min.
Bonus DVD
Deleted Scene
The Final Climax
Christian & Ana By Jamie & Dakota
Technische Specificaties Blu-ray:
Video/Aspect Ratio 2.40:1 – 1080p
Audio: Engels DTS:X DTS HD-Master Audio 5.1, Frans DTS-HD Master Audio 7.1
Ondertiteling: Engels voor doven en slechthorenden, Frans, Nederlands
Speelduur: Unveiled Edition: ca. 110 min. Theatrical: ca. 105 min.
Bonus
Deleted Scene
The Final Climax
Christian & Ana By Jamie & Dakota
An Intimate Conversation E.L. James and Eric Johnson
Music Video: "For You (Fifty Shades Freed)"- Liam Payne & Rita Ora
Music Video: "Capital Letters"- Hailee Steinfeld x BloodPop®
Music Video: "Heaven" – Julia Michaels
Technische Specificaties UHD:
Video/Aspect Ratio 2.40:1 – 4K
Audio: Engels DTS:X DTS HD-Master Audio 5.1, Frans DTS-HD Master Audio 7.1
Ondertiteling: Engels voor doven en slechthorenden, Frans, Nederlands
Speelduur: Unveiled Edition: ca. 110 min. Theatrical: ca. 105 min.
Bonus (UHD + BD)
Deleted Scene
The Final Climax
Christian & Ana By Jamie & Dakota
An Intimate Conversation E.L. James and Eric Johnson
Music Video: "For You (Fifty Shades Freed)"- Liam Payne & Rita Ora
Music Video: "Capital Letters"- Hailee Steinfeld x BloodPop®
Music Video: "Heaven" – Julia Michaels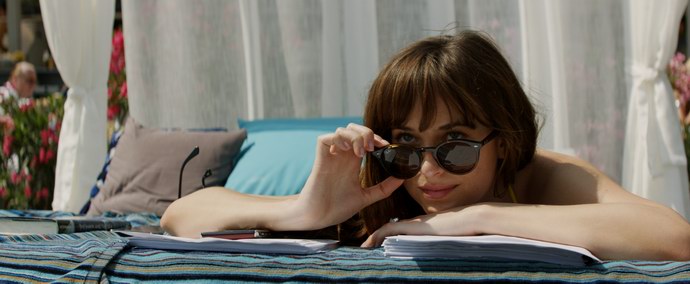 Recente artikelen
Filteren
Tags
Meer >
Archief
2019

2018

2017

2016

2015

2014

2013

2012

2011

2010

2009

2008

2007

2006

2005

2004

2003

2002

2001
Meer >
Deel deze pagina