Win 2 bioscoopkaarten voor The Lone Ranger
Win 2 bioscoopkaarten voor The Lone Ranger

Disney's The Lone Ranger draait vanaf nu in de Nederlandse bioscopen, ook in IMAX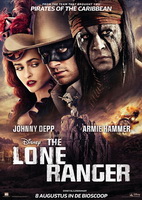 Producent Jerry Bruckheimer en regisseur Gore Verbinski, het team achter de blockbusters 'Pirates of the Caribbean', komen opnieuw samen voor Disney's 'The Longer Ranger'. Een spannend avontuur doordrenkt met actie en humor.
De indiaanse krijger Tonto (Johnny Depp) vertelt over de talloze verhalen van de gemaskerde held John Reid (Armie Hammer). John Reid is een man van de wet, getransformeerd tot een legende van rechtvaardigheid. Deze twee tegenpolen worden door het lot samengebracht en moeten leren hun krachten te bundelen om corruptie te bestrijden en hebzucht tegen te gaan.In 'The Lone Ranger' wordt het publiek meegenomen in een wild avontuur vol verrassende wendingen, humor en bijzondere tegenstellingen. Met een sterke cast waaronder Tom Wilkinson, William Fichtner, Barry Pepper, James Badge Dale, Ruth Wilson en Helena Bonham Carter.
Bekijk de trailer:


Wil je kans maken om 2 bioscoopkaarten voor The Lone Ranger te winnen?
Doe dan hier mee!
© Disney 2013


Recente artikelen
Filteren
Tags
Meer >
Archief
2019

2018

2017

2016

2015

2014

2013

2012

2011

2010

2009

2008

2007

2006

2005

2004

2003

2002

2001
Meer >
Deel deze pagina